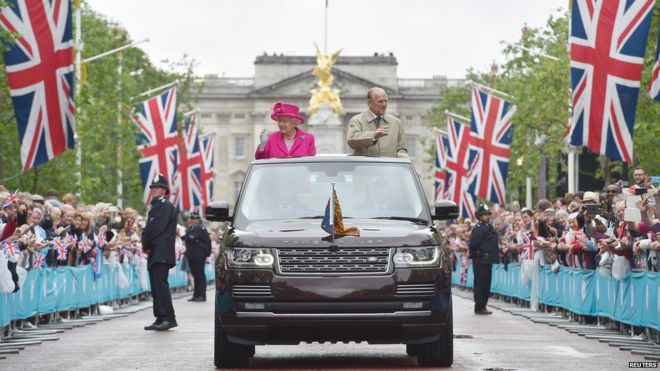 The Queens 90th Birthday was celebrated by all over the weekend with many events from the trooping of the colour to garden parties across the country and on Sunday the Patrons Lunch over 600 organisations that HRH the Queen is a patron over came to the mall for a Royal Street Party. HRH the Queen and her Husband Prince Phillip Duke of Edinburgh took centre stage in an open top Range Rover as the crowds sang Happy Birthday mean while the Prince William and Harry followed in another Range Rover along with the Duchess of Cambridge.
This truly patriotic occasion to celebrate Her Majesty the Queens official Birthday included a speech from Prince William praising his Grandmother for her work with the 600 plus charities and organisations and of coursed wished a very happy birthday.
The Royal family are regularly seen travelling in true regal style in a Range Rover the most fitting car for the family.
Grange Land Rover Swindon have a variety of Range Rovers available both new and used take a look at our stock here to travel in Royal fashion.
http://www.grange.co.uk/used-cars/land-rover?dealer=land-rover-swindon